MAINTAINING SAFETY, ABOVE ALL ELSE
We achieve operational excellence by hiring and maintaining the most qualified and dedicated workforce in the industry, making safety accountability part of our daily operations.
OUR SAFETY VALUES
Effective leadership participation, employee involvement and communication
Knowledge and personal responsibility to comply with Standard Operating Procedures and regulatory requirements
Effective risk reduction processes
Safety through facility appearance
Contractor safety
Personal wellness
DOWNLOAD SAFETY VALUES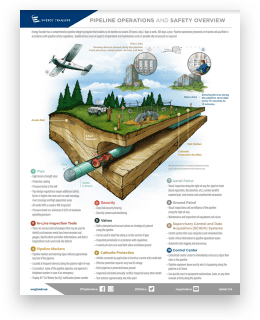 PIPELINE SAFETY
Energy Transfer has a comprehensive pipeline integrity program that enables us to monitor our assets 24 hours a day, 7 days a week. We also spend hundreds of millions of dollars each year maintaining and improving our assets as part of our Integrity Management Program.
DOWNLOAD FACT SHEET
MARCUS HOOK TEAM EARNS SAFETY AWARD
After a record-breaking 2,000,000+ injury-free hours, our team in Marcus Hook, PA was honored with the Top Gold Star Award at the Zero Injury Safety Award gala.
REGULATORY AGENCIES AND STANDARDS
Numerous agencies regulate the operations of pipeline and terminal assets through various types of permits, licenses, registrations and certifications. Energy Transfer personnel work closely with many agencies to ensure operations are conducted in a safe, secure and environmentally responsible manner.
RESOURCES & FACT SHEETS
Download to get a detailed look at some of our standards and practices.