PRESS RELEASES
Explore news and press releases below.
IN THE NEWS
Read about us in the news and learn about how our projects and community efforts are making a difference across the country.
FACT SHEETS AND BROCHURES
Read and download these helpful fact sheets that detail our projects, integrity programs, construction methods and more.
VIDEO GALLERY
Browse and view videos that give a closer look at Energy Transfer. Check out even more videos on our
YouTube channel
.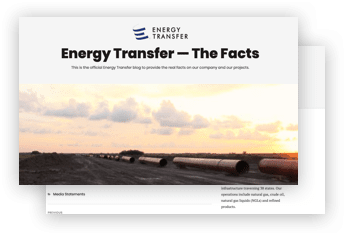 ENERGY TRANSFER BLOG
Check out the official Energy Transfer blog to see real facts on our company and our projects.
READ NOW