PRESS RELEASES
Explore news and press releases below.
IN THE NEWS
Read about us in the news and learn about how our projects and community efforts are making a difference across the country.
03/04/2020
"CEO Spotlight" KRLD Radio Interview with Kelcy L. Warren, Chairman & CEO, Energy Transfer
Energy Transfer Chairman & CEO, Kelcy Warren, interviewed with KRLD Radio's David Johnson on 'CEO Spotlight' to talk candidly about business and philanthropy.
LISTEN TO INTERVIEW
02/07/2020
Dakota Access Pipeline Donates $160,000 to 2x4's for Hope, Building Homes for Veterans
Dakota Access Pipeline LLC donated $160,000 to the Quincy-based group 2×4's for Hope. The funding will help build four more tiny (575-square-foot) homes in Quincy, plus complete the funding for a partially built tiny home in Brown County.
READ FULL ARTICLE
01/14/2020
Energy Transfer Joins Pipeline Spill Research Consortium, iPipe
Energy Transfer is the newest member of iPipe, which is managed by the Energy & Environmental Research Center at the University of North Dakota. Through iPipe, several technologies targeting leaks have been developed and deployed on a commercial scale.
READ FULL ARTICLE
FACT SHEETS AND BROCHURES
Read and download these helpful fact sheets that detail our projects, integrity programs, construction methods and more.
VIDEO GALLERY
Browse and view videos that give a closer look at Energy Transfer. Check out even more videos on our
YouTube channel
.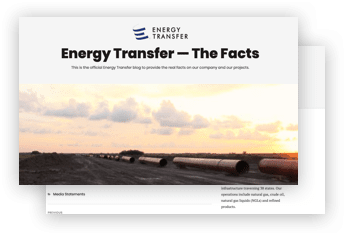 ENERGY TRANSFER BLOG
Check out the official Energy Transfer blog to see real facts on our company and our projects.
READ NOW